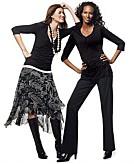 You will receive an assortment of trendy, casual, dress wear from the following names.
Depending on the size of your order you may receive some or most of the following brand names.
Polo Ralph Lauren
Tommy Hilfiger
Calvin Klein
Liz Claiborner
Jones NY
August Silk
Ambition
Tahari
Oscar De La Renta
Hot Cotton
Michael Kors
The above is a sample of the brands you can receive.
Styles include trendy, casual, dressy, shrugs, gaucho pants, camisoles, tanks, tube tops, peasant skirts, halter tops, baby doll shirts, low rise jeans, boot cut jeans, flare jeans, capris, slacks, velour sweats, long sleeve sequined tees, and logo tees.
Our women's clothing is overstock from one of the highest end department stores, and has original labels and tags.
Original retail prices up to $200.
This is premium designer clothing meant for an upscale audience, that appreciates stylish clothing.