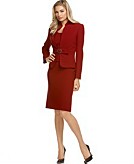 166. Designer Name Suits For Women Retail Value To $350
High end spring and summer dresses by brands such as:
John Meyer
Le Suit
Jones NY
Kasper
Liz Claiborne
Many other designer names.
This lot is fresh overstock from a high end department store.
Suits are 2 and 3 pieces, with original labels and tags, pre priced up to $350.
These suits are perfect for all female customers since the brands are popular, high quality, and fashionable.
One of our most popular items, these suits move very well at stores, boutiques, eBay, and even at flea markets.
Your margins are pretty good, and so is your net profit.
If you offer these suits at 75% off their original retail, you will still be charging anywhere from $40 to $100 per suit.
Remember, these are very high end suits which retail for up to $350.
Customers recognize quality and pay accordingly.